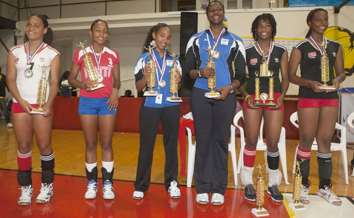 USVI and TTO crowned in CAZOVA

ST CROIX, Virgin Islands, April 5, 2012 – U.S. Virgin Islands claimed the gold medal at the CAZOVA Boys Youth Championship with a four-set (25-19, 25-21, 14-25, 25-20) triumph over a resilient Curacaco on Wednesday.

MVP Nayib Gonzalez had a tournament-high 21 points and Aseah Thomas and Jordan Evans added 14 and 13 points respectively as the top contributors to the win. Derrick Alexandre and Sharif Gabriel finished with 13 and 10 points for Curacao.

MVP Malika Davidson's 20 points led Trinidad and Tobago to a 3-0 (25-15, 25-22, 25-20) victory over Haiti in the gold-medal match of the CAZOVA Girls Youth Championship.

Sakile Grannum contributed 9 points including five aces and three blocks as the eventual champions outblocked their opponents (6-2) and also dominated in the aces category (9-4). Reann Young also had 9 tallies including 4 aces. The best Haitian scorer was Solaida Pierre with 10 points.

Jabarry Goodridge scored 10 points and Chioke Holde added 8 to lead Barbados in the 25-15-25-25-17 victory over Trinidad and Tobago for the boys' bronze medal.

The girls' third place went to U.S. Virgin Islands following a straight-set (25-22, 25-14, 25-23) victory against Barbados. Danielle Christian led the winners with 11 points and Ashley Marshall had 9 for the defeated team.


Boys individual awards
MVP: Nayib Gonzalez (TRI), Best Scorer: Jabarry Goodridge (BAR), Best Spiker: Nayig Gonzalez (TRI), Best Blocker: Jeandry Phillips (CUR), Best Server: Nathanael MacLean (BAR), Best Setter: Lakish Plante (ISV), Best Receiver: Jabarry Goodridge (BAR), Best Digger: Jabarry Goodridge (BAR), Best Libero: Matthew Bailey (BAR).

Girls individual awards